The Research Table is a research option found under the Artifice tab, along with being a Mystical Construct. The Research Table allows for one to complete Research Notes obtained from the Thaumonomicon in order to progress in Thaumaturgy. Without one, there can be little progression into Thaumaturgy, as a vast majority of the features and items within the mod can only be obtained by research. One can create a Research Table by placing down a Table anywhere in the world and right clicking on it with Scribing Tools in hand. The Scribing Tools are added to the research Table, but can be removed from within the Table's GUI, but to be used a set of Scribing Tools must be present, along with the Research Note being completed. For more knowledge on how to actually use the Research Table, one can read the Research page, found under the Basic Information tab.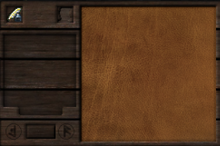 Ad blocker interference detected!
Wikia is a free-to-use site that makes money from advertising. We have a modified experience for viewers using ad blockers

Wikia is not accessible if you've made further modifications. Remove the custom ad blocker rule(s) and the page will load as expected.